Porcelain Veneers near Glencairn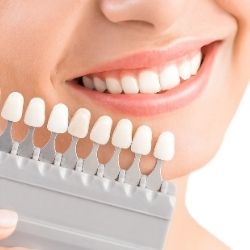 Porcelain dental veneers are a beautiful way to correct stained, chipped, or crooked teeth. By placing ceramic porcelain on the surface of teeth, our Toronto dentists can provide you with a bright, straight, and natural looking smile. If you are considering Dental Veneers and would like more information about the process and cost of treatment, our Glen Park dental team would be pleased to discuss Veneers with you on your next visit.
Veneers serve many purposes and can be used to:
Repair broken or chipped teeth
Close gaps in teeth
Straighten Crooked Teeth
Whiten Permanently-Stained or Discoloured Teeth
Enhance your overall smile making you feel more confident
Book an appointment with us at our Glencairn Dental Office on Dufferin and Lawrence to learn more about porcelain veneers and see if it is the right solution for you!