Children's Dentistry near Glencairn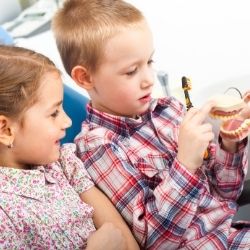 At Brody Family Dental, located at Dufferin and Lawrence near Glencairn, we believe that the best way to avoid dental problems is to take proper care of our oral health and maintain healthy oral hygiene habits, especially during our childhood! At our Glen Park dental office, we offer a comfortable and stress-free environment, to help children feel more relaxed during their dental visits.
At our Dufferin dental office, we provide:
Dental Cleaning
Dental Check-ups
Professionally Fitted Sports Mouthguards
Extensive Dental Care
Please contact our Dufferin dental office to book an appointment to learn more about the services that our Glen Park dental team can provide for your child.