Laser Gum Treatments: Soft Tissue Dental Laser near Glencairn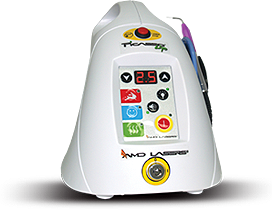 Modern dentistry combines advanced techniques with specialized technology to ensure your optimal oral health. At Brody Family Dental, we incorporate technologies that we believe will benefit the comfort as well as health of our patients. For that reason we are pleased to use the Picasso soft tissue dental laser at our Glen Park dental office.
What is Laser Dentistry?
Laser dentistry is a precise way to perform many dental procedures using a focused beam. Dental lasers allow us to treat highly targeted areas without disturbing the surrounding tissue.
Soft Tissue Laser can be used for:
Gum Reshaping: we can reshape your gum line to create a less 'gummy smile'.
Denture Comfort: soft tissue laser can be used for comfortable and suture-free removal of tissue that cause discomfort for denture wearers.
Preparation for other Treatments: lasers are helpful in preparing the gums for Endodontic procedures, treating periodontal disease, teeth whitening and other cosmetic and restorative treatments.
Benefits of Laser Dentistry:
Increased accuracy and efficiency
Laser dentistry minimizes bleeding and infection.
The beam aids in clotting and sterilizes the area being worked on.
Wounds heal faster allowing tissues to regenerate.
Certain procedures may not even require freezing!
If you would like to learn more about the use of Dental Lasers at our Glen Park Family Dental Office located at Dufferin and Lawrence near Glencairn, ask us the next time you are in for a visit or contact us!