Dentures on Dufferin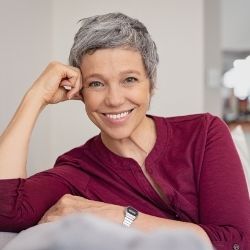 Ignoring missing teeth can be a big mistake! It isn't simply about coping with the aesthetic displeasure; missing teeth can lead to a range of more serious dental problems, including shifting teeth (and an unaligned bite), bone loss in the jaw, and the opportunity for decay and periodontal disease to set in. The solution can be dentures.
Dentures, also known as artificial teeth, are removable dental appliances that are constructed to replace missing teeth. They can be made of different materials, often hardened porcelain and acrylic resin, and are made to look as natural as possible. It doesn't matter if you are missing all or a few of your natural teeth, dentures allow patients to look, feel, talk, and eat as if they had natural teeth!
Some main types of Dentures include:
Conventional: inserted after remaining teeth have been removed and the gums and tissues have healed. The healing may take a few months, but the dentures will fit the first time, since the shape of the mouth and gums are established.
Immediate: are inserted right away after the removal of teeth. With immediate dentures, patients are able to eat and speak much sooner than conventional dentures. However, as the gums and jaw heal, the fit of the immediate dentures will change and typically a new set of dentures will be required after about 6 months.
Full or Complete Dentures: are worn when the patient is missing all their teeth in a single arch. Dentures are extremely delicate, and should be removed at night for cleaning. Speak to our dentists on which denture would best suit you and how you can best take care them after the procedure.
If we determine that you need dentures, we have an on-site denturist at our Eglinton West dental office. Contact us to book an appointment.